Last weekend was pretty awesome.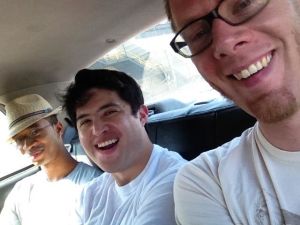 On the way to PHL.
It was my first PAX ever, and Cipher Prime exhibited Splice as part of the PAX 10!
Seattle was a cool city (granted, we did hit it on a weekend without any rain!), even though we only got to see the inside of the convention center and a handful of bar/restaurant streets.
PAX itself was way more overwhelming than I expected. So many people, so much stuff going on, and so little time to actually explore it! Exhibiting Splice had us on our feet and talking from 10am to 6pm every day, and then we'd spend the nights dining and drinking with our awesome fellow indies.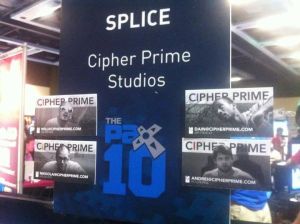 PAX 10 Placard plus our new business cards.
A couple of duly-noted experiences/lessons for the next big showcase:
Multiple people manning the booth was a lifesaver. For a good part of the show time, all four of us were manning the booth and talking to people. However, with four of us Dain and Will could jump off for interviews with press and get Cipher Prime news out there. We were also able to send out single persons for food runs, or for lightning fast design and print work, like for when we ran out of Splice flyers and had Splice tags made up at the Kinko's downstairs!
iPads (or any tablets) are awesome. On our six foot table, we had enough room to prop up a big screen TV right at the edge, and then two Intel ultrabooks side by side. But then, we also had five iPads circulating around our table. That meant we could have eight people playing the game at once, and more often than not we did. The iPad was simply a really engaging tool when working the crowd, and we're happy that Splice works so well on the platform. Our other games, like Pulse, have also been shown off at bars and waiting in line at various places. It's simply a great way to spread word of your game and get people to play it. Although we probably can't (and shouldn't) make every game for the iPad, I think that if it's possible and it's easy to do, it's definitely worth it.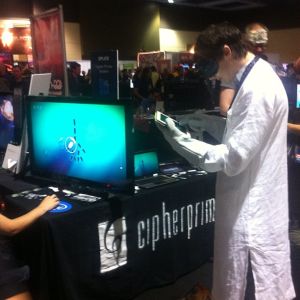 Science-y.
We should have counted throughput. How many people played our game? We can't really say. We should have come up with a system to keep track of how many people played our game. How many codes did we give away? Again, we can't really say. How many interviews did we do? We could probably sit down and hash it out, but we probably couldn't say off hand. These are all dead simple things to count.
Bring more swag. We ran out of armbands and stickers on day one. Ran out of buttons (and we had between five and six hundred buttons) on day two. People love themselves some buttons.
Giving people a way to buy our games on a spot. One of the PAX 10 judges who stopped by our booth suggested that we purchase copies of the game ourselves, and then let people buy them from us at the booth. We had a midway-there solution, and offered Steam discount codes that were printed out and put on Splice promo materials.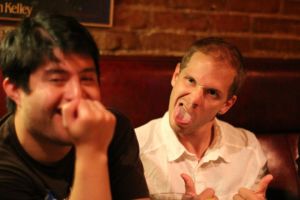 Indie dinner at the Owl & Thistle
Be prepared to talk, and talk, and talk. Two things I wish I'd had: chapstick and breath mints. I was constantly talking and explaining the game and Cipher Prime, or talking about game development. It was pretty fun, but exhausting. Drink lots of water.
You will get really good at demoing your game. By the end of the third day, I could sum up the "how to play" of Splice, that is, the essential game mechanic without which you will be flailing about, in three sentences. "You want to rearrange this cellular tree into the shape outlined in the back. When you pick up a cell it will show you where you can reattach it. You only have a few moves." This, I think, is the barest minimum you can give a player. Just give someone an iPad, rattle off that, and let them play. The other details they'll pick up on their own. Though, there are still definitely people who don't understand it even when you demonstrated just moments before.
And you will realize that you should have done a little bit more beta testing. The two things that stood out in my mind were our decisions about when we decided to notify people about the move limit, and how we decided to display the target shape and the drop zones. Those things were unnecessarily obscure, though it's kind of odd how we could have rejected suggestions to the contrary during development.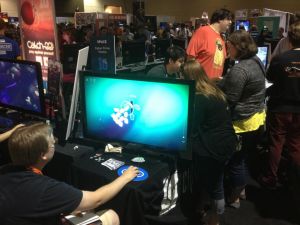 The Splice table.
If anything else pops into my head I'll add it to the list. All in all it was good times, and I should catch up on all the networking stuff before the window closes.